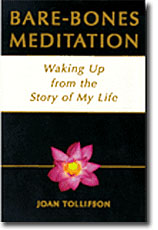 BARE-BONES MEDITATION
Waking Up from the Story of My Life
(published in 1996)

Born with only one hand, Joan grew up feeling different. Coming out as a lesbian in 1966, she felt even more different. Bare-Bones Meditation tells the story of Joan's journey through drinking, drugs, therapy, revolution, martial arts, and Zen. It gives an intimate account of working with her teachers Toni Packer, Joko Beck, and Mel Weitsman -- and especially of living and working at Toni's rural retreat center in Springwater, New York. Toni encouraged Joan to abandon all answers and methods, to question all beliefs, and to explore the simplicity of present awareness. This is a book about that exploration, and it touches upon questions of identity, authority, addiction, and the relevance of simple awareness to the world's problems.
Praise for Bare-Bones
An exquisitely honest book about an unconventional woman's search for truth in an age of doubt and anxiety--raucous, painful, and serene. I recommend it highly to every skeptic looking for companionship on his own rocky path--a wry voice of hard-earned wisdom to urge him along the way.
-- Mark Matousek, Sex Death Enlightenment
Another writer, succumbing to the temptation to recast her experiences in a more favorable light, might have edited out the anger and the mistakes--the messiness. But it is what Tollifson leaves in this book that makes it so important. This unflinching account of one person's real life spiritual transformation ends up building our trust in an often difficult process. While the book dispels romantic notions about spiritual practice, it also demonstrates vividly how people change as they persist in rigorously following a spiritual path.
-- Utne Reader
I loved Joan's book. She's there on every page. Lively, ravishingly honest, funny, deeply serious, totally disarming.
-- Lenore Friedman, Meetings with Remarkable Women
Joan Tollifson gives us an unvarnished, exhilarating account of her struggle to make sense of her life. We can watch her muddy waters slowly settle into the 'right now, just as it is' understanding in which nothing is solved and nothing needs to be. Useful for all of us!
-- Charlotte Joko Beck, Everyday Zen and Nothing Special
This frank and heartfelt memoir chronicles an extraordinary journey of self-discovery.
-- New Age Journal
A moving, honest, intensely personal account...
-- Yoga Journal
Joan Tollifson addresses some very critical questions of our existence, and she does so with openness, humor, and an eye for nuance. Bare-Bones Meditation is an adventure in removing the veils--and in holding each one, and the face it obscures (and then reveals) with tenderness and attention.
-- Turning Wheel
A wonderful piece of writing and meditation teaching. Joan Tollifson moves decisively from self-preoccupation to self-knowing. She takes us with her, in writing that is simple, straightforward, and honest. I recommend this book to Zen, Vipassana, and nontraditional practitioners of mindfulness meditation.
-- Larry Rosenberg, Guiding Teacher, Cambridge Insight Meditation Center and Insight Meditation Society
If the only true path leads through the heat of the jungle, right through the center of our fear and hopelessness and despair, then Joan Tollifson is one of those compassionate travelers who has made her way into that jungle and is willing to come back and tell us what it looks like. I laugh, I cry--with recognition...
-- Inquiring Mind
Unlike so many Buddhist books which seem to emanate from a source which we must approach barefoot and bowed, this book pulls us along on the arm of a fellow-traveler. Tollifson's poetic and lyric style includes many strands of what it is to be alive in a time and place. Ultimately this is a book about addictions--to drugs, alcohol, sex, and relationships, but also to happiness and the comfort of our perceptual patterns...
-- Parabola
Jean Klein always said that the best teachers are those who remember what it was like before they woke up. As anyone who has read Joan Tollifson's exquisitely-written memoir, Bare-Bones Meditation knows, she has been to hell and back. Because of this, she radiates a clarity, honesty, and authenticity--leavened, thank God, by a wonderful sense of humor--which makes being with her unique, special, profound. You will fall in love with this woman, as I did.
--Jim Dreaver, The Way of Harmony

Available from Amazon or Penguin Random House


back to book menu