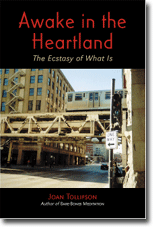 AWAKE IN THE HEARTLAND
The Ecstasy of What Is
(First published in 2003, but be sure to get the 2022 New Sarum Press edition.)

If there seems to be a gap between what the enlightenment books describe and what you find in your own life, if you still think enlightenment is something that will happen to you in the future (or not at all), if you're still chasing exotic experiences or self-improvement or some final breakthrough, then this book may be just what you need to wake up to the truth that what you are seeking is already here.

This book points to the simplicity and wonder of what is, as it is. It's about discovering perfection in imperfection, and the extraordinary in the ordinary. It celebrates what is, from the beautiful to the horrific, inviting the reader to see that everything is spiritual and that nothing is a mistake.

Awake in the Heartland offers the non-dual understanding and direct approach of Advaita and Zen, grounded in the actuality of daily life with all its messiness, complexity, uncertainty, paradox, and apparent imperfection. Instead of reinforcing the mythology of enlightened teachers who are "very special people" up on pedestals, Joan reveals her own life with candid honesty, demolishing all ideas of how things "should" be.

The book takes a fresh look at questions of addiction, free will, good and evil, authority, and identity. It invites you to let go of all the answers, to look for yourself without clinging to opinions or beliefs, and without relying on what the authorities say. Awake in the Heartland points to the simplicity of what is, here and now -- nothing more and nothing less. Honest, funny, radical, liberating and profound, this is a nondual book like no other.
In this lovely book, Joan says that "every moment is a kiss." Every time I open and read a passage from Awake in the Heartland, I feel that I have been kissed by this sense of immediate presence. Thank you, Joan, for this precious gift.
-- Josh Baran, 365 nirvana here and now: living every moment in enlightenment

There is a vibrant energy that emanates from the pages of this book that cannot help but resonate with and stir the same essence in the reader and awaken them to the ecstasy of what is-- their own true nature. Because the personal story is so beautifully interwoven, the book answers the question so often asked by seekers: "Yes, I understand BUT...how do I live my life?" Joan is constantly showing the reader, by personal example, that life lives itself as IS no matter WHAT appears. I recommend it.
-- Sailor Bob Adamson, What's Wrong with Right Now Unless You Think About It?

An excellent book. Joan has a gift for writing clearly. Her willingness to share her own very human story points out the ordinariness of realization and how things just continue on as they do...both before and after awakening.
--Chuck Hillig, Enlightenment for Beginners, The Way It Is, and Seeds for the Soul

In her book Joan takes us on a journey that starts and ends where we already and always are. She illustrates this pathless path with humor, compassion and keen observations of human nature. Her descriptions of nature at large are vividly beautiful and remind me of Zen paintings. She points to the realm "where the chariot of speech finds no tracks to go," and generously shares her hard won insights with the reader. Read it from cover to cover or open it at random; it all fits together and -at the same time- each chapter stands on its own. Enjoy!
--Leo Hartong, Awakening to the Dream

Thank you, Joan, for reminding me, in your plain & funny Midwestern way, that there is absolutely nothing to attain. Your book is a warrior's journal; a chronicle of surrendering to 'what is' and finding beauty waiting.
--Mike Stiler, Who Sees? words and pictures from nowhere

I loved reading about Joan's adventures in Awake in the Heartland. Joan clearly demonstrates by her own example the futility of seeking to escape from the perceived problem of life as the individual. She shows that simply by living in recognition of our true nature as awareness, the agitated search for personal transcendence is dissolved into acceptance of life as it is, allowing the emergence of real peace and equanimity.
--Nathan Gill, Clarity
Many thanks for your wonderful writngs -- wise, deep, lucid, profoundly humorous.
--Ann Diller, Professor of Education, University of New Hampshire
This gutsy and moving book has the power to alter one's whole attitude toward life problems such as addiction. Tollifson calls into question the whole spiritual quest industry.
--A Reviewer from Zephyrhills, Florida on Amazon.com
I can honestly say that of all the books I have read over the last twenty years (including all of those in your bibliography) this is simply the best and most honest treatment of the mysterious "enlightenment" topic ever. I thank you so much. Your treatment of issues such as 9/11 and the war and politics in relation to the whole "spiritual" or "enlightenment" thing is just the first time I have seen anyone even try to include all of that. So essential and so necessary. Great.
--Ian McBain, a reader in Hong Kong
I want to express my gratitude to you for your new book by saying, however inadequately, thank you, thank you, thank you!! Tears flowed throughout the reading, kindled by the beauty, the honesty, the authenticity, the resonances, and what I'm calling 'recognition.' The frank revealing of What Is as it is lived out in your life speaks to me clearly and deeply.
--Janet Williams, a reader in Utah
This book offers, as too few dharma books do, a ground-level view of life as practice---chastening, relentless, redemptive.
-- Robert Hirschfield in Inquiring Mind
A treasure chest full of gems.
-- Sanjiv Manifest, Stillness Speaks
I really enjoyed your down to earth sanity. Very refreshing!
--Arjuna Ardagh, Relaxing into Clear Seeing and How About Now?
I read your book and loved it. It is a treasure.
--Geneen Roth, When Food Is Love
Joan's intimate personal narration of her love affair with Truth is insightful and a wonderful invitation to those that find themselves also as lovers of Truth.
--Isaac Shapiro, It Happens by Itself
A Lonely Planet Guide to the Backwaters of Non-Dualistic Spirituality.
--Wayne Liquorman, Acceptance of What IS: A Book About Nothing
Your clear honest book is such a down home kind of applied enlightenment that demythologizes enlightenment....I love your book.
--Brad Blanton, Radical Honesty
Thanks for a wonderful treasure...your words of pure love and truth...I loved it...especially the personal parts about your life.
--Mark McCloskey, Pure Silence

Read a sample and find ordering links at New Sarum Press.

Available from Amazon US and Amazon UK. It can also be order from Barnes and Noble, and other bookstores can order it through Lightning Source/Ingram.


back to book menu